On-Site Evaluations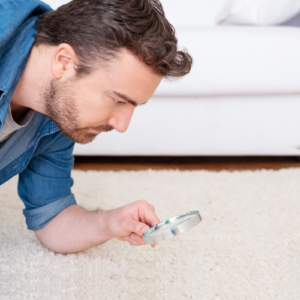 Hi I'm Brandon….
I spend a portion of my time reviewing pictures of my customers projects, most of the time I can estimate them from just a few snap shots.
When I can't put together the project in my mind I will generally call the customer to clarify. If I don't think that'll work I'll suggest we do a video call.
But what if a phone call or a video call won't work?
The only solution is an On-Site Evaluation.
These are an example of situations that need me to be on-site:
A customer that is debating whether to repair or replace their carpet and want to know how many more years they can get out of the carpet
A carpet cleaner has been to the home and was unsuccessful removing certain stains or the stains keep coming back
There's multiple damaged areas i.e. carpet tears, carpet staining, carpet stretching, carpet bleach spots
Customer wants to change their carpet color by doing a full room carpet dye
Measurements
I'll tell you a quick story of a couple in Belmont, San Mateo. They Googled carpet repairs near me and my company came up.
They had to sell their house and put it on the market asap.
The carpet was a total disaster…or at least that's what they were being told.
They told me they called a few very reputable carpet cleaning companies in the area to come out for a bid. The price was astronomical and each bid said "No Guarantee".
So they thought they should try to see how much it would be to replace it. The numbers ranged from $5,000 to $9,000. (Some of the quotes were for low face weight Polyester products and some were for the best Nylon 6). Now they were really confused.
Her husband, one night, decided to see if there was someone who could help them understand what they were dealing with.
We set up the appointment and the project looked something like this:
When I arrived I instantly could tell this was a 60-70oz cut pile nylon
I tested a fiber in formic Acid and confirmed it was nylon (They make parachutes and rock climbing gear from nylon!)
I assessed all the rooms and developed a plan
Patch 5 areas from existing pet damage
Suggested a specific carpet cleaning process from one of our partners
Changed the beige to a grey by carpet dyeing to compliment that color scheme in the home
They paid $2,400 and the carpet looked like brand new!
This is an extreme case but having the knowledge to think outside the box was so important.
If you want to know what can be done about your carpets, if you want someone that can give you an honest and professional opinion so you can make the best choice, then schedule me to come out to your home.
I must mention, on-site visits are generally for more complex projects. Most can be done on the phone or over the internet.
There's a small fee, but if it means not wasting time or money making the wrong decision, it might be worth considering.
-Brandon, Moser Carpet Repairs